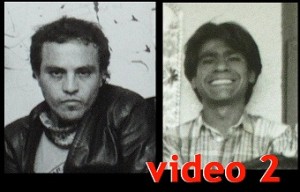 Productora independiente de video, formada por Alberto Roblest y César Lizárraga en el año de 1985, tras la ruptura del grupo de teatro y performance, "Cada quien su Rollo".
Becarios del FONCA -en la categoría de jóvenes creadores- en 1993 por las instalaciones: "La Gallina del Monitor" y "Asesinato en Masa".
"TLC: accidente comercial"  (1990, Videoinstalación de dos canales y olores interactivos), permitió al grupo asentarse como instaladores. Fue la primera vez que en el Salón de la Plástica Mexicana, una organización enfocada más bien en la pintura y la escultura, se exhibiera una pieza electrónica. El show se llamó "Espacios y objetos alternativos" y fue una colectiva de arte no tradicional; participaron miembros e invitados del Salón de la Plástica Mexicana, en la ya lejana Ciudad de México de 1990.
Por algo como diez años, Video 2 realizó un par de docenas de piezas analógicas, algunos bastante "básicas", si tomamos en cuenta el equipo con que fueron realizadas o los costos de producción de algunas de ellas.
Una de las grandes enseñanzas que Pola Weiss nos dejaría siendo nuestra maestra, es que más que el costo de un proyecto, lo sofisticado del equipo de edición y la super cámara de gran formato, lo importante es el concepto y su realización, especialmente en nuestros países donde ser productor independiente es bien difícil. Low Ress-High Def y no a la inversa. Hoy en día una computadora soluciona el problema de la edición y del audio, en aquellos tiempos, hablamos de máquinas reproductoras y grabadoras de video y audio de diferentes formatos, maquina correctora de video-color, un montón de cables, conectores y etcétera, etcétera. En época de vacas flacas, Video 2 hizo varias piezas bastante minimalistas si se toma en cuenta que nosotros hicimos videos con una cámara –multiusos- y una reproductora VHS casera de aquella época y un control remoto. O esperábamos a sacarnos la lotería o producíamos, decidimos por lo segundo. Por supuesto, cuando llegó la posibilidad de usar Betacam en un estudio de edición, lo hicimos también claro. De esta época recuerdo "La Gallina del Monitor", para la cual construimos toda una escenografía y nos dimos varios otros lujos.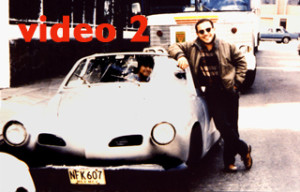 Video 2 produjo aproximadamente unos 20 videos; entre experimentales, video danza y video clips. De entre los más vistos, están: "Pedro Martir" -el cual participó en la muestra europea "Ecrans Du Mexique" en 1992-, "La Gallina del Monitor", transmitido por canal público en NY, por el New York City Downtown Community Television Center DCTV; en un evento llamado "Act of Video", en junio de 1994- y por último; "Collage", que fue parte de la colectiva "Segundas jornadas del Video y la performance" organizadas por el Museo de Arte Carrillo Gil de la Ciudad de México en noviembre de 1990.
Video 2 participó en un sinfín de muestras en centros culturales, exhibiciones callejeras y festivales de video, tanto en México como en el extranjero. Fue uno de los grupos más activos a finales de los 80s en la Ciudad de México. El grupo se disolvió en 1996. Por diferentes razones y circunstancias de la vida sobre todo, el grupo se separa, no sin haber dejado su pequeña huella en el video mexicano de los 80-90s.
Videos digitalizados de Video 2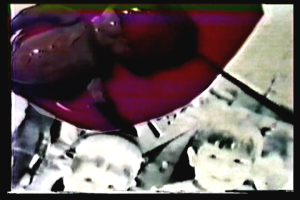 1-Pedro Martir. 6:30 min- 1992 
La experiencia latinoamericana: represión y dolor como tributo a Dios. Video realizado el año del Bicentenario de America.  | The Latin American experience: repression and pain as a tribute to God. Video made the Bicentennial year.
Exhibiciones: *Scott Pfaffman Gallery "in mid-sentence videos by A. Roblest", June 9 New York City 2001. *III Bienal de Video México, Ciudad de México, 1994. *Downtown Community Television Center DCTV, "Act of Video", New York City, 1994. *Universidad Hispanoamericana Santa María de la Rabida, "Del Arte y Otros Desamores" traveling show of independent video work, exhibited in Madrid, Seville, Valencia, Moguer, Pamplona and Calahorra. Spain, Aug.-Sept. 1992   *A Bao A Qou gallery, "Poesie Visuel du Est a del' Est" collective show of video and other electronic arts. Paris France, March 1992  *Maison d'la Amerique Latine y Centre Culturel du Mexique, "Ecrans du Mexique: Journee de la television et la video Mexicaine", febrero 1992, Paris Francia (muestra ambulante más tarde en España, Italia, Suiza y Bélgica). *Macondo Cultural Center, "Video Latino", diciembre 20, Los ÁngelesCalifornia, 1992.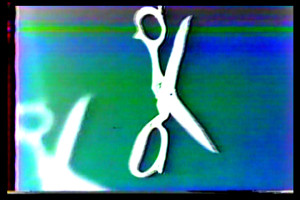 2-Collage. 2:30 min- 1987 
Video poema alterado, sintetizado, manipulado, cortado, envejecido, actualizado, no-poema en torno a la irracionalidad de la Guerra Fría. | Video altered poem, synthesized, manipulated, cut, aged, and updated. Non- poem about the irrationality of the Cold War.
Exhibiciones: *Scott Pfaffman Gallery, June 9 New York City 2001. *1ª Bienal de Poesía Visual, Televisión Universitaria UNAM, México 1990  *Casa de la Cultura Tlálpan, "Espectáculo Multimedia Post-Post",  12-15 de Agosto,  Mexico DF,  l989  *Museo Carrillo Gil, "Primeras Jornadas del Video y el Performance", marzo 5-9, México DF, 1989 *Casa de la Cultura del Estado de México, "Nuevas Lecturas de Poesía", junio 12-16, Toluca México, 1988. *Facultad de Ciencias Políticas y Sociales de la UNAM (premiere), México DF, 1987.
3-Impresionismo, 2:20 min. 1989
Este video podría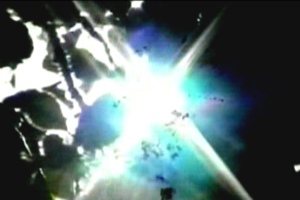 decirse que es un "ready made", esto es el tipo de piezas que se hacen solas. En este caso, el reflejo del sol en un charco en el parque, es el pretexto para la abstracción. | This video is a "ready made", this is the kind of piece that make themselves. In this case, the sun's reflection in a puddle in the park, is the pretext for abstraction.
Exhibiciones: VideoSpace, "Múltiple Visión/Videos from Mexico" Mobius Gallery May 21, Boston, 1996. *Museo Carrillo Gil, "Primeras Jornadas del Video y el Performance", marzo 5-9, México DF, l989. *Casa de la Cultura del Estado de México, "Nuevas Lecturas de Poesía", junio 12-16, Toluca México, 1989.
4- La Gallina del Monitor  Experimental, 8:30 min. 1993 
La Gallina del monitor resultó un proyecto de dos partes; una video instalación y un video, que como su nombre lo indica, es un corto experimental que crítica a la televisión comercial y su poder de enajenación, manipulación y pasividad en los espectadores mexicanos. La relación entre la caja idiota y un ser sin puños. |  Experimental short that critique commercial television and power of alienation , manipulation and passivity in Mexican viewers.   Exhibiciones: *VideoFest 2K6, "Roblest – Retrospective," Biennial de video y cine contemporano, Instituto Cultural Baja California, Mexicali, Mexico, November 15-27, 2006  *Los Angeles Contemporary Exhibitions, LACE (at Windows), Los Angeles California, February – March 22, 1995  *New York City Downtown Community Television Center DCTV;  "Act of Video", June 1994  *Museo de Arte Carrillo Gil, muestra colectiva de arte tecnológico mexicano denominado "Otras Gráficas". Ciudad de México, Marzo 1993.
5- Presión por Opresión | Pressure for Oppression. Experimental, 6:35 min.  l986 
Archivos del video Mexicano. Realizado por Video 2 poco después del temblor de 1985, esta pieza es una reflexión en torno al dolor; pero también en torno al mexicanismo producto de las culturas precolombinas, la colonia y el catolisimo. Cuasi inédito, este video fue rechazado en varios festivales mexicanos y no fue exhibido hasta su re-estreno digital en USA quince años después.  |  Mexican video archives. Pressure for Oppression. Made by Video 2 shortly after the 1985 earthquake, this piece is a reflection on pain; but also around Mexicanism, a product of pre-Columbian cultures, the colony and the Catholicism. Quasi unpublished, this video was rejected in several Mexican festivals and not shown until its digital re-release in the USA fifteen years later.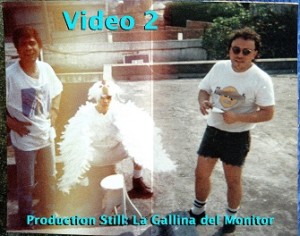 VIDEO 2.  Sin duda, los momentos más importantes del grupo son haber sido seleccionados con "Pedro Martir", a participar en la muestra itinerante europea denominado "Ecrans Du'Mexique" -con función de gala y toda la cosa- en "La Maison du la Amerique Latine" y en la "Maison du Mexique" en pleno corazón de Paris. Y la "puesta en escena"- instalación de "Asesinato en Masa o para Matar a la Televisión" en la explanada del Museo Rufino Tamayo en año del 1993. Además de muestras callejeras, performances y borracheras memorables, entre otras cosas.